This will be our last gardening article from Judy Daniels. Each month she has provided us with words of wisdom to gardeners the country over. We will miss receiving and reading these monthly articles. Thanks, Judy, for the many we have enjoyed over the past few years.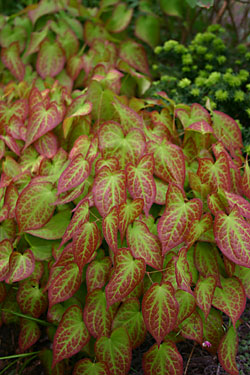 Epimedium Rubrum
One of the pleasures of the creative process is the revelation of the unexpected, the appearance of beauty in a place never before blessed. As the weather warms, we are treated to this phenomena and the idea of garden control becomes laughable. Rogue tulips, miniature hyacinths, and lillium scout out previously unclaimed territory. Lilly-of-the-valley make mischief in their neighbors' well made beds. Flowering white and purple 'money' fill the space between our deer fences and liberate the shadows under the evergreens. As Frederica and I make the spring rounds of our property, our conversation certainly isn't botanical. "Wow! Would you look at that!
Here are two plants that illustrate the irrepressibility of this season: pulmonaria and epimedium. Always on the lookout for interesting shade loving plants, I came across these two illustrated in catalogues and immediately sent in my order. "Pulmonaria actually means lungwart. Despite a sickly name, these wonderful, clumping borage relatives are indeed beauties in the shady garden…ranging from solid green to nearly pure silver." "Epimediums are easy to grow, tenancious perennials…a welcome first breath of spring…then a solid backdrop of attractive foliage for the remainder of the growing season."
Yes, they are lovely plants but what makes them very special to me is their pattern of growth. Small when planted, suddenly they are show-offs. Greedily clumping and reaching, both plants have wonderful blossoms but more interestingly, incredibly generous, unusual foliage. Epimediums or fairy wings varieties may have evergreen, mottled rose patterned, dark purple-edged, light green, or red-flushed heart shaped leaves. Pulmonaria varieties can have leaves that are dark green, spotted with silver, solid shiny silver or a creamy white border shaped like a lance. They are fabulous additions to any shade garden. Wow, indeed! For more information, go to www.plantdelights.com or home.earthlink.net/~darrellpro for details on a huge selection of epimediums.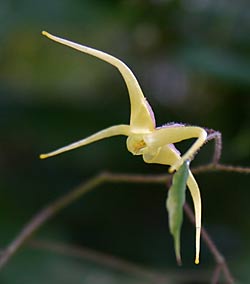 Epimedium Rhizomatosum